Queen + Adam Lambert (sometimes referred to as Q+AL or QAL) is a collaboration between the active members of the British band Queen (Brian May and Roger Taylor) and American vocalist Adam Lambert.
As with all other Queen performances since 1997, longstanding bassist John Deacon has declined to participate in the project due to his retirement. This is the first long-term collaboration of Queen since the Queen + Paul Rodgers project ended in 2009. The collaboration originated when May and Taylor appeared on American Idol in 2009 when Lambert was a contestant. They began performing occasionally in 2011, conducted a short European tour in 2012, and in 2014 announced a world tour, the Queen + Adam Lambert Tour 2014–2015 with dates in North America, Australia, New Zealand, Asia, Europe and South America. In the summer of 2016, the group performed several dates as part of a festival tour in Europe and several dates in Asia. The next year, the group announced a second worldwide tour scheduled for 2017 and 2018.
Joining May, Taylor and Lambert are long-time Queen touring keyboardist Spike Edney, bassist Neil Fairclough and percussionist Tyler Warren. Although there are currently no plans to release a studio album with this lineup, May and Taylor have stated that there is a possibility of the group recording original material.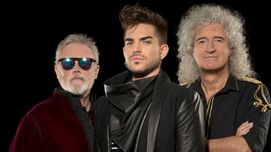 After their first performance in Kiev in 2012, a Queen + Adam Lambert mini-tour followed with dates in Moscow, Wrocław, and London, In September 2013, they appeared as a headliner at the iHeartRadio Music Festival in Las Vegas. In March 2014, they announced a 19-date Queen + Adam Lambert North American tour in the summer of 2014, which was then extended to 24 dates. In May 2014, tour dates in Australia were also announced, followed by New Zealand. The band also performed in South Korea and Japan. The tour was then extended to 2015 with dates in Europe and the UK as well as South America.
Queen + Adam Lambert 2016 Summer Festival Tour started on 20 May 2016 in Lisbon, Portugal and ended on 30 September 2016 in Bangkok, Thailand. On 26 January 2017, a 26-date concert tour through North America was announced. The tour, which includes 4 dates in Canada, started on 23 June 2017 in Phoenix, Arizona and ended on 5 August 2017 in Houston, Texas. In April 2017, it was announced that the tour would be expanded to include 26 dates in Europe. Two months later, it was announced that the group would perform in New Zealand and Australia in February and March 2018. The Queen + Adam Lambert Tour 2017–2018 is an ongoing worldwide concert tour.
Queen + Adam Lambert Tour 2012 (2012)
Queen + Adam Lambert Tour 2014-2015 (2014-2015)
Queen + Adam Lambert 2016 Summer Festival Tour (2016)
Queen + Adam Lambert Tour 2017–2018 (2017–2018)
Upcoming Events
Edit
| | | |
| --- | --- | --- |
| 2018.06.07 | Altice Arena | Lisbon Portugal |
| 2018.06.09 | Wizink Center | Madrid Spain |
| 2018.06.10 | Palau Saint Jordi Club | Barcelona Spain |
| 2018.06.13 | Lanxess Arena | Cologne Germany |
| 2018.06.15 | Jyske Bank Boxen | Herning Denmark |
| 2018.06.17 | Telenor Arena | Oslo Norway |
| 2018.06.19 | Mercedes-Benz Arena | Berlin Germany |
| 2018.06.20 | Barclaycard Arena | Hamburg, Germany |
| 2018.06.25 | Forum | Milan Italy |
| 2018.06.27 | Ahoy Rotterdam | Rotterdam Netherlands |
| 2018.06.29 | Sportpaleis | Antwerp Belgium |
| 2018.07.01 | Wembley SSE Arena | London United Kingdom |
| 2018.07.02 | The O2 | London United Kingdom |
| 2018.07.04 | The O2 | London United Kingdom |
| 2018.07.06 | Trsnmt Festival | Glasgow Scotland UK |
| 2018.07.08 | Marlay Park | Dublin Ireland |